4  locations – Seattle
$2.25
I didn't go to this place looking for a cookie. I mean it's a bagel joint – a step above the typical bagel bakery offerings with things like fava bean spread and shakshuka on the menu (check it out) – but still, not a place I was expecting to find a remarkable cookie.
And then I remembered that, historically, some of my favorite cookies ever were found when I wasn't looking for them, like at grocery store bakeries and taquerias and throwback 1990's coffee shops.
I've been on sort of a tahini/sesame jag recently (fyi: a little swirl is so nice on vanilla ice cream with a drizzle of honey and salt), so I didn't think twice when I told my bro to grab this tahini cookie when we were ordering our bagel lunch – the only cookie (or any kind of dessert, I think) in the entire place.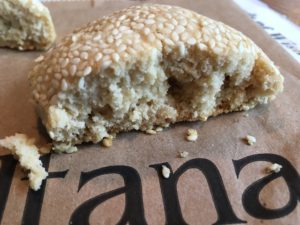 Conclusion: It was not a mistake! Okay, so imagine the sort of peanut butter cookie that is made mostly of peanut butter, held together with a little flour and sugar and (maybe?) eggs. And salt. (Salt is a must, especially in a nut/seed heavy cookie. I cannot say this too many times. This one could have used more, imo.) It's that same sort of dense, protein-y texture as that cookie, but sesame-y instead of peanut-y (obvs). With even more sesame seeds sprinkled atop, as your eyes can see. You could eat this cookie in place of a protein bar and not feel like you were lying to yourself. No joke.
Points to Eltana for their out of the ordinary offering.